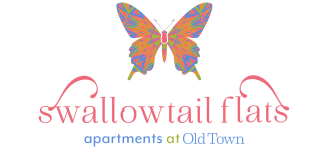 Your Review
Submit a Review

Resident Reviews
Swallowtail combines the connivence of the city with the tranquility of the country.
|

Recommended: Yes
We appreciate the amazing review Mrs. Eyles! We truly LOVE our residents!!! Thank you for being the best part of our days!! :) -Swallowtail Staff
A beautiful, family-friendly property
|Recommended: Yes
Very family-friendly in all aspects. From the bark park for the pets, the gym for those workout junkies, and game movie room for the little munchkins And the staff are all friendly and very helpful with anything you need.
Thank you! We LOVE having you as a resident here!! :)
Best Apartment Community in Columbus, GA
|Recommended: Yes
The staff is great and truly care about the residents here. The residents are very friendly and you can tell it's a community. I love to see the children playing outside in the courtyard and going to the mill for treat and a movie. The apartments have a unique layout and very up-to-date appliances.
Thank you for your kind comments ! We love having residents like you :)
Swallowtail is by far the most EXTRAVAGANT community in Columbus|Recommended: YesI would highly reccommend Swallowtail Flats to anyone The service is phenominal the property is beautiful and there is nothing in Columbus like Swallowtail Paul, Berkley and Caitlin know each of us residents and my son visits the office daily just to say hello and enjoy the amenities- movie room, pool table and we LOVE THE POOL Once all the stores open I won't even have to leave the community I LOVE IT HERE
It's ok but the rent is too high|Recommended: YesYes, I like living at Swallowtail flats
Amazing community
|Recommended: Yes
This is a great and safe community to live in for all types of people. There are always fun activities going on The staff is so friendly, and the best part is they know you by name
Swallowtail Staff loves having tenants like you ~ Thank you for your comment :)
Resort Living
|Recommended: Yes
Living here is like living in a vacation resort. Excellent community, safe, fun atmosphere, and wonderful staff.
We love having your family here at Swallowtail Flats Michael! Thank you so much for the review.
Great place to live
|Recommended: No
Great place to live at however as more people move in it is becoming a bit crowded and parking is a huge issue.
Thank you so much for your review Carmen. We love having you as a resident! We still have a month or two left before our final phases have been completed,and I have been assured that we will have enough parking reflecting 100% occupancy.
Pure Enjoyment
|Recommended: Yes
It is great living here. Berkley and Kaitlin are always kind and attentive to the needs of the tenants. I enjoy the amenities like the slide, pool, billards table and so much more. Being a smaller complex you get more of a feeling of community. I enjoy living here.
Thank you so much Shaun! We appreciate your review and we love having you here as a resident! I agree with you 100% percent! Berkley and Caitlin rock!!!!
Cool place to live|Recommended: YesWish I could have more pets to live with me -
Overall AWESOME place to live|Recommended: YesThe grounds landscaping is some of the most beautiful I have ever seen at an apartment community. The office personel are so pleasant and not snotty like you would typically expect to see in an apartment community. The noise level is good not excellent and it's sometimes difficult to get maintainence in a timely manner because there is only one of him. Bugs are everywhere, I guess it's a southern thing The cleaning crew they have coming through is HORRIBLE which is frustrating since we pay for it in the frills package But these apartments are really pretty great, I'm overall proud to live here.
One of the best in Columbus
|Recommended: Yes
The complex is great and lead by a great staff. I would and have recommended it. The only negative side to the complex is the parking. There is not enough spaces, especially around the middle buildings 400 and 800 . Many times now, I have had to park at the opposite end of the complex from where I live.
We are so glad you are here with us, and know once our construction is complete that you will be happy with the additional parking that is being added!!
Beautiful scenery, very tranquil.
|Recommended: Yes
Great property with a small town feel and great service.
Thanks Dale! You guys are the BEST!!
Living at Swallowtail Flats
|Recommended: Yes
One of the most beautiful, friendly, and caring apartment complex I ever live in.
We are so glad to have you all here with us!!
Awesome
|Recommended: Yes
Its the bomb. Never a dull moment. My only complaint is I shouldn t have to pay a fee to pay my rent when I can walk it around to the office for free.
We are so glad to have you here, and are always happy to put a little FUN in your day :) We appreciate feedback and are always looking for ways to improve your experience here at Swallowtail Flats at Old Town!